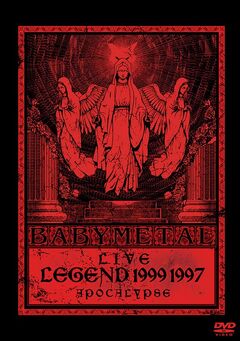 LIVE~LEGEND 1999&1997 APOCALYPSE is the second live video release by the Japanese band BABYMETAL. It contains two concerts.
Tracklist
Edit
Legend "1999"
Edit
Legend "1999" Yuimetal & Moametal Seitansai 2013/6/30 at NHK Hall
Babymetal Death
Iine!
Kimi To Anime Ga Mitai
Uki Uki Midnight
Chokotto Love, Big Time Changes ver. (Petit Moni Cover)
Love Machine, From Hell With Love ver. (Morning Musume)
Onedari Daisakusen
-ENCORE-
No Rain, No Rainbow
Catch Me If You Can
Doki Doki Morning
Megitsune
Ijime, Dame, Zettai
-ENCORE-
Akatsuki
Head Bangya
Ave Maria Outro
Support Act

Babybones
KamiBand - Aoyama Hideki (Drums), BOH (Bass), Takayoshi Ohmura (Guitars), Leda Cygnus (Guitars)
Legend "1997"
Edit
Ave Maria (Intro)
Headbanger!! -Night of 15 mix-
Doki Doki Morning
Iine!
Tamashii No Rufuran, Return To Myself ver. (Yoko Takahashi)
Uki Uki Midnight
Gimme Chocolate
Kimi To Anime Ga Mitai
Megitsune
Ijime, Dame, Zettai
-ENCORE-
Onedari Daisakusen
Catch Me If You Can (Extended Intro)
Head Bangya
Akatsuki (Unfinished Version)
Babymetal Death
Support Act

Babybones
KamiBand - Aoyama Hideki (Drums), BOH (Bass), Fujioka Mikio (Guitars), Leda Cygnus (Guitars)
Concert Schedule
Edit
| | | | |
| --- | --- | --- | --- |
| Date | Event | Venue | Prefecture |
| 2013.06.30 | Legend "1999" | NHK Hall | Tokyo |
| 2013.12.21 | Legend "1997" | Makuhari Messe | Chiba |